Olympic skaters Savchenko/Massot win world title with record score
2018-03-24 06:03:45 GMT
2018-03-24 14:03:45(Beijing Time)
Xinhua English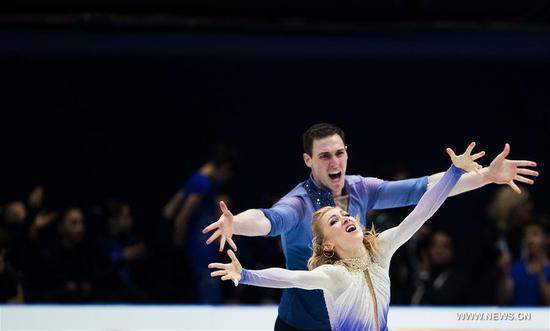 标签:冰淇淋 中山广场
MILAN, March 22 (Xinhua) -- Olympic champions Aljona Savchenko and Bruno Massot set a new world record to win the pairs title at the world figure skating championships here on Thursday.
Skating to La Terre vue du ciel, the German duo bettered their gold medal-winning performance in PyeongChang with a new world record score of 162.86 points in free skate, for an overall score of 245.84.
It is the first world title for Savchenko and Massot after they teamed up in October 2014.
"Thinking about family who could not be at the Olympics was very motivating to skate here," said Savchenko, who won five times at worlds with former partner Robin Szolkowy.
The 34-year-old Ukrainian-born skater also tied Norwegian legend Sonja Henie for the female record of 11 world championships medals after being crowned together with Massot.
Two-time European champions Evgenia Tarasova and Vladimir Morozov of Russia took silver at over 20 points behind, while France's Vanessa James and Morgan Cipres were the third, claiming their first podium.
Yu Xiaoyu/Zhang Hao, who finished eighth in PyeongChang, moved from ninth position up to the seventh after free skate, while their fellow Chinese Peng Cheng/Jin Yang ended on the ninth despite having scored a personal best in short program.
Earlier on Thursday, American-born Chinese Nathan Chen grabbed the lead in the men's short program, opening up a 1.86-point lead on Russia's Mikhail Kolyada.
American-born Chinese Vincent Zhou, just 17 years old, was third with five points adrift of Chen, in the absence of Olympic champion Yuzuru Hanyu.
China's Olympian Jin Boyang, the 2017 world bronze medalist, ranked fourth at 95.85 after underrotating his quad toe, but the 20-year-old completed a quad Lutz-triple toe combination.
PyeongChang Olympic silver medalist Shoma Uno of Japan, battling an ankle injury, came fifth after scoring 94.26 points.
The competition continues on Friday with Olympic champion Alina Zagitova of Russia bidding for a very first world gold in her first senior season, while France's Gabriella Papadakis and Guillaume Cizeron look to win a third world title in ice dance.